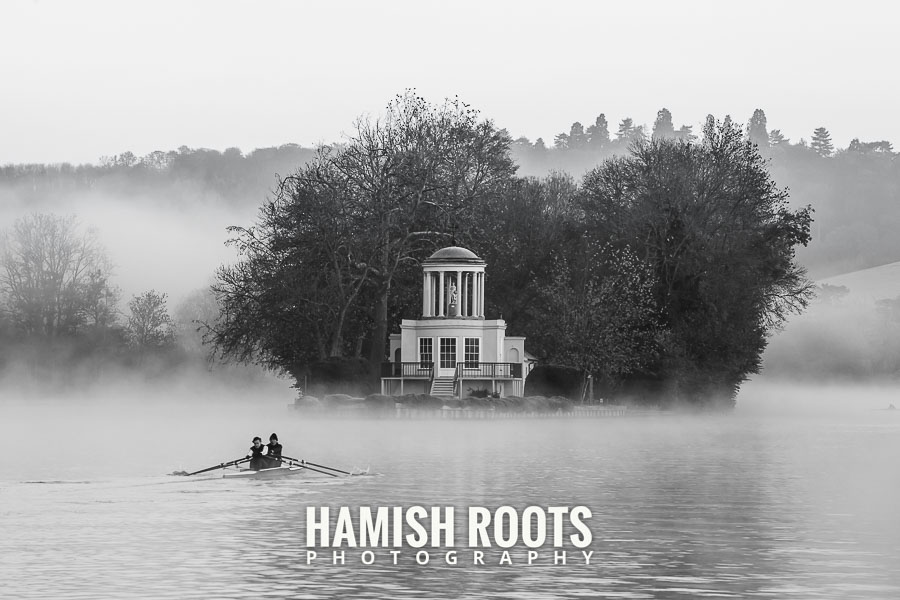 November 2011, Henley-on-Thames
There is perhaps nowhere more recognisable in the rowing world than Temple Island in Henley-on-Thames, a emblematic landmark at the start of the world renowned Henley Royal Regatta and Henley Women's Regattas. At just over 200 metres long crews competing crews race alongside the island for less than a minute of their race, passing the ornamental temple as they do so, before continuing down the course against their rivals.
Mist is a wonderful catalyst for photographing almost any subject, as evidenced in my previous posts, but when the subject is as iconic as a world famous landmark it requires a carefully considered approach to capture something unique. Noticing the forecast for a misty autumn morning I made my way to the river in Henley in the hope of creating something special, travelling through the early dawn gloom I descended into the Thames valley through a thick blanket of mist. Visibility was terrible but in the low light I made my way to the riverbank and waited for the sun to come up, anticipating the scene before it began to burn away the mist. Despite the early start I was not disappointed, standing on the riverbank just as the sunrise took hold the mists began to clear and the Island was revealed, appearing to float on a cloud over the calm river. I was more than happy with what I had but then a double scull moved into the frame, adding the perfect context to the composition. 
<< Back to News Home